CUTANIA® Skin Control Wipes

Dermatological Drying, Whitening and Degreasing Hygienic Wipes

Dogs, Cats, Horses, Other Animals
Presentation:
24 wipes.
Size: 24 cm x 14 cm


Key Constituents:
Boric Acid
2%
Acetic acid
2%
Aloe barbadensis
0.1%
Chamomilla recutita
0.1%
Hamamelis virginiana
0.1%
Cleaning, degreasing, drying and whitening actions.
They do not contain antibiotics (do not generate resistances) or corticosteroids.
Tough and highly impregnated fabric.
Cleaning and caring of skin folds: facial, interdigital, vulvar, etc.
Cleaning of skin erosions or superficial wounds.
Cleaning, whitening and degreasing actions in tear stains.
Cleaning of ear pinnae.
Appropriate for dermatological processes such as pododermatitis, dermatitis, fold pyoderma…
For hygienic care of normal skin.
Dermatological processes: 1-2 times / day during 7-10 days.
Maintenance: 1-2 times / week.
Download
You may also like…
CUTANIA TrisEDTA Wipes – Dermatological Wipes with Antimicrobial Action for the Care, Hygiene and Cleanse of Skin
ABELIA GlycoZoo – Dermatological and Non-Irritating Otologic Solution with Cleaning, Drying, Cerumenolytic, Keratolytic and Lipolytic actions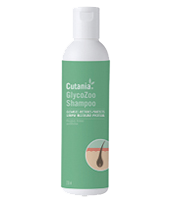 CUTANIA GlycoZoo Shampoo – Dermatological Shampoo with Drying action, Keratolytic, Lipolytic and Deodorizing Effects
CUTANIA GlycoZoo Spray – Dermatological Spray Lotion with Drying Action, and Keratolytic, Lipolytic and Deodorizing Effects