Latest Generation Dermatological Spray Lotion with Moisturizing and Calming Action




Key Constituents:
Hydrolyzed Oat Protein
2%
Glycolic Acid
1%
Ceramides
0.1%
No-rinse spray — Sustained permanent action: Leave-On, Dry-On.
Calming and moisturizing effects.
With Oat (Avena sativa) — Moisturizes and softens the skin.
With Glycolic Acid — Keratolytic and lipolytic actions.
Contains Ceramides (Phytosphingosine) — Help to restore dry and damaged skin.
Restoring the function of the epidermis and the skin's barrier effect.
Does not contain antibiotics or corticosteroids.
Mild and nice scent.
Due to its calming effect it is appropriate as a support in treatment of processes related to pruritus, allergies and skin irritation such as allergic dermatitis in cats and dogs or summer dermatitis in horses.
Skin that can benefit from the oat calming effect.
Conditions that require restoring and maintaining the skin's barrier function. Useful in small areas or the full body.
Especially useful in localized areas such as interdigital area, to maintain and restore hydration to the skin.
As a complement to CUTANIA® GlycOat Shampoo, to:

Reduce the frequency of baths.
Multiply its effects.
Facilitate management.

Situations in which bathing is not possible: difficult to handle animals, cats, impossibility for owners.
Also useful on sensitive skin that requires gentle and delicate maintenance.
Suitable for daily use.
Spray evenly soaking hair and skin.
Initial: 1-2 times a day.
Maintenance: once a week or depending on the case.
In some cases is recommended to cut the hair before application. As a complement to CUTANIA® GlycOat Shampoo. It can be used between baths, which can help to reduce the frequency of them.
Suitable for regular use.
Download
You may also like…
CUTANIA® GlycOat Shampoo – Latest Generation Dermatological Shampoo with Moisturizing Effect and Calming Action
ABELIA® TrisEDTA Wipes – Dermatological Wipes with Antimicrobial Action for the Care, Hygiene and Cleanse of Skin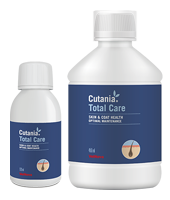 CUTANIA® Total Care – High Potency Dermatological Supplement Designed to Strengthen the Cutaneous Structures. Complete Formula with Biotin, Zinc, L-Cysteine, Omega 3 and 6 and Vitamins
APTIMA® Estiderm" content="High-power dermatological supplement designed to strengthen skin structures