Latest Generation Dermatological Shampoo with Moisturizing Effect and Calming Action


Presentation:
236 ml – 355 ml


Key Constituents:
Hydrolyzed Oat Protein
2 %
Glycolic Acid
1%
Ceramides
0.1%
Calming and moisturizing effects.
With Oat (Avena sativa) — Softens and moisturizes the skin.
With Glycolic Acid — Keratolytic and lipolytic actions.
Contains Ceramides (Phytosphingosine) which help to restore dry and damaged skin.
Epidermis restoring action. Locks moisture in and supports the barrier effect of skin.
Does not contain antibiotics or corticosteroids.
Mild and nice scent.
Due to its calming action it is appropriate as a support in treatment of disorders associated with pruritus, allergies and skin irritation: such as allergic dermatitis in cats and dogs or summer dermatitis in horses.
Skin that can benefit from the oat calming effect.
Conditions that require restoring and maintaining the skin's barrier function.
Small spots or complete pet surface use.
Irritated, dry or scaled skin because of its moisturizing effect.
Suitable for regular use, as maintenance.
To maintain and restore hydration to the skin.
Regular use on sensitive skin that requires gentle and delicate maintenance.
For localized areas or generalized use.
The frequency must be determined in each specific case.
Initial:

Hot spots: once a day.
Full bath: 2 or 3 applications / week until the process is controlled.

Maintenance: Once a week or as needed.
Wet the hair with abundant water and apply massaging deeply the hair and skin. Leave for 5-10 minutes and rinse with plenty of warm water. Dry the animal and when completely dry brush the coat.
It can be combined with CUTANIA® GlycOat Spray for improved results.
Suitable for regular use.
Download
You may also like…
CUTANIA® GlycOat Spray – Latest Generation Dermatological Spray Lotion with Moisturizing and Calming Action
ABELIA® Zn-Otic – Highly Safe Natural Non-Irritating Aqueous Based Otic Solution With Soothing, Cleansing and Drying Actions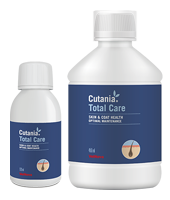 CUTANIA® Total Care – High Potency Dermatological Supplement Designed to Strengthen the Cutaneous Structures. Complete Formula with Biotin, Zinc, L-Cysteine, Omega 3 and 6 and Vitamins
APTIMA® Estiderm – High-power dermatological supplement designed to strengthen skin structures