Dermatological and Non-Irritating Otologic Solution with Cleaning, Drying, Cerumenolytic, Keratolytic and Lipolytic actions


Presentation:
118 ml, 240 ml
Key Constituents:
Boric Acid
2%
Glycolic Acid
2%
Safe use in cases of perforated tympanic membrane.
Creates a hostile environment for the growth of microorganisms.
Lipolytic and keratolytic actions.
Exfoliating action.
High cerumenolytic power.
Powerful drying and acidifying actions of the ear canal.
Very low incidence of post-application discomfort.
Does not contain antibiotics (does not generate resistances) or corticosteroids.
Does not interfere with allergy tests.
Effective and very safe — Ideal for long-term use.
Aqueous and colorless solution — Does not stain household surfaces or fabrics.
Support for the veterinary treatment of choice in otologic processes where yeasts are involved.
Maximize the efficacy of the veterinary treatment of choice due to its cerumenolytic and keratolytic actions.
Ear conditions which present seborrhoea or keratinization problems.
Helps to repair and protect the epithelium of the ear canal.
Ears with perforated tympanic membrane (or with suspicion of it).
Cleaning and drying the ear canal.
Initially: apply until the ear canal is full (1-5m depending on the breed). Softly massage the base of the ear and remove excess solution. Use once or twice daily
Long-term: 1-2 times / week.
Ears should be checked every 7 to 10 days by a veterinarian.
Download
You may also like…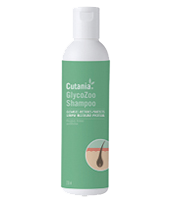 CUTANIA GlycoZoo Shampoo – Dermatological Shampoo with Drying action, Keratolytic, Lipolytic and Deodorizing Effects
CUTANIA GlycoZoo Spay – Dermatological Spray Lotion with Drying Action, and Keratolytic, Lipolytic and Deodorizing Effects
CUTANIA GlycoZoo Shampoo – Dermatological Shampoo with Drying action, Keratolytic, Lipolytic and Deodorizing Effects