CUTANIA® Hair Control Shampoo

Complete Shampoo with Essential Fatty Acids, Vitamins and Antioxidants for an Optimal Skin and Coat Health


Key Constituents:
Flaxseed Oil
0.1%
Grapeseed Oil
0.1%
Hydrolyzed Oat Protein
0.1%
Hydrolyzed Wheat Protein
0.1%
Green Tea Extract
0.1%
Vitamin E
0.1%
Panthenol
0.1%
Lactic Acid
0.1%
Rich in Essential Fatty Acids: Oleic and Linoleic Acid from Flaxseed Oil, and Oleanolic Acid from Grapeseed Oil.
With Oat Protein that penetrates into the hair follicle and protects it, and Wheat Protein, that has moisturizing properties.
Provides Vitamin E, Panthenol and Green Tea among others.
Antioxidant effect for its content in flavonoids and phenols.
Soft and nice smell.
Promotes healthy hair growth, nourishing follicles deeply.
Helps in managing skin scaling.
Contributes to reinforce the barrier action and to maintain the skin structure, and also to support the natural mechanisms of hair's restoration.
Restores skin hydration.
It can be used daily. Frequency must be determined in each particular case.
It is recommended to combine it with CUTANIA® Hair Control Conditioner to enhance its effects.
Wet the hair with abundant water and apply massaging deeply the hair and skin. Leave for 5-10 minutes and rinse with plenty of warm water. Dry the animal and when completely dry brush the coat.
For optimal results complement with CUTANIA® Total Care.
Download
You may also like…
CUTANIA® Hair Control Conditioner – Complete Dermatological Conditioner with Essential Fatty Acids, Vitamins and Antioxidants for Optimal Skin and Hair's Health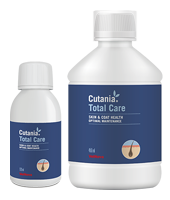 CUTANIA® Total Care – High Potency Dermatological Supplement Designed to Strengthen the Cutaneous Structures. Complete Formula with Biotin, Zinc, L-Cysteine, Omega 3 and 6 and Vitamins