Lime Sulphur Concentrated Solution with Keratolytic, Keratoplastic and Antipruritic Effect
Key Constituents:
Calcium polysulfide (29% solution)
97.8 %
Concentrated lime sulfur solution.
Optimal for use in shelters, rescue and breeding centers.
Measuring cup included – Allows using the exact amount needed:

Accurate dosing.
Increased efficiency.

With keratolytic, keratoplastic and antipruritic effect.
Skin conditions that may benefit from the effect of lime sulphur.
Contains no antibiotics or corticosteroids.
Suitable for young animals (puppies and kittens).
Supports veterinary treatment of choice in:

Generalized Dermatophytosis in cats and dogs (ringworm).
Demodex gatoi.
Demodectic and Sarcoptic mange in cats and dogs.

Skin processes in dogs, cats and small mammals that respond to lime sulphur.
For situations that may benefit from a keratolytic, keratoplastic and antipruritic effect.
Wear gloves.
Dissolve 30 ml of product in 1 L of water.
Important: only reconstitute the necessary amount, after 24 hours it denatures.
Wet the animal before application and ensure the coat is completely wet.
Pour the resulting solution on the animal's body area to be treated and let it dry freely.
Massage the area where the solution has been applied.
Do not rinse or dry. Do not allow animal to groom and lick fur until product dries.
Can be applied every 5-7 days for 4-6 weeks.
Warnings: may cause temporary staining of light hair and skin of animals, porous surfaces (concrete) and damage jewelry. The sulfurated strong smell is normal.
Download
You may also like…
CUTANIA TrisEDTA Wipes – Dermatological Wipes with Antimicrobial Action for the Care, Hygiene and Cleanse of Skin
ABELIA GlycoZoo – Dermatological and Non-Irritating Otologic Solution with Cleaning, Drying, Cerumenolytic, Keratolytic and Lipolytic actions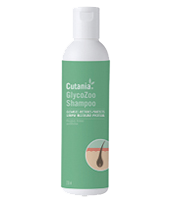 CUTANIA GlycoZoo Shampoo – Dermatological Shampoo with Drying action, Keratolytic, Lipolytic and Deodorizing Effects
CUTANIA GlycoZoo Spray – Dermatological Spray Lotion with Drying Action, and Keratolytic, Lipolytic and Deodorizing Effects