Dietetic Supplement Rich in L-Lysine Formulated in Highly Palatable Chews

Key Constituents (per chew):
L-Lysine (HCl)
500 mg
Highly safe — Suitable for long-term use.
Highly palatable chews — Facilitate daily intake.
For clinical or latent situations where L-Lysine use can be beneficial.
Adult cats with medium weight.
Adult cats:
Initially: 1 – 2 chews / cat
Maintenance or stressful or immunosuppressed periods: 1 chew / cat
*Adjust dosage and frequency depending on animal's weight and situation.
Download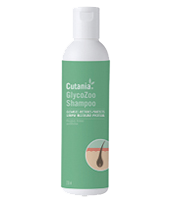 CUTANIA GlycoZoo Shampoo – Dermatological Shampoo with Drying action, Keratolytic, Lipolytic and Deodorizing Effects
CUTANIA GlycoZoo Spay – Dermatological Spray Lotion with Drying Action, and Keratolytic, Lipolytic and Deodorizing Effects
CUTANIA GlycoZoo Shampoo – Dermatological Shampoo with Drying action, Keratolytic, Lipolytic and Deodorizing Effects