Oral Solution with a Complete Formula for the Support of the Immune and Respiratory Systems
Presentation:
75 ml
with dosing cap and syringe
Key Constituents (per chew):
L-lysine
100 mg
Omega 3*
194.53 mg
DHA*
130.93 mg
EPA*
35.07 mg
Other Omega 3*
28.44 mg
Vitamin A*
1193 IU
Vitamin B1
0.93 mg
Vitamin B2
1.18 mg
Vitamin B6
1.18 mg
Vitamin B12
2.11 μg
Vitamin D3*
23 IU
*Variable quantity due to it being a natural product.
Complementary feed with complete formula and synergic effect.

As support for the immune and respiratory systems.

Rich in L-lysine – Complemented with Essential Fatty Acids (EFA), Vitamins from group B, A and D.

L-lysine – Interferes with Arginine availability, essential for Herpesvirus replication.**

Rich in Omega 3 – Contributes to the correct functioning and development of the nervous, visual and articular systems.

With Group B Vitamins – With antioxidant

 

and neuroprotectant effects.

Useful in kittens and adult cats.

Highly palatable oral solution.

Easy administration – Mixed with food or via syringe orally.

Patented cold-extraction of Omega-3 – Maximum bioavailability.

Developed and produced in Spain.
**Thomasy SM, Maggs DJ. A review of antiviral drugs and other compounds with activityagainst feline herpesvirus type 1. Veterinary Ophthalmology (2016) 1–12
Suitable for young and adult cats:
Helps to maintain the immune system's

 

function and health.
As support for the respiratory system.
For situations where L-lysine might be beneficial.
As support for the optimal functioning of the nervous, respiratory and immune systems in growing kittens.
Natural origin product, colour and odour differences might be appreciated without affecting the quality of the product.
Download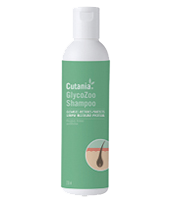 CUTANIA GlycoZoo Shampoo – Dermatological Shampoo with Drying action, Keratolytic, Lipolytic and Deodorizing Effects
CUTANIA GlycoZoo Spay – Dermatological Spray Lotion with Drying Action, and Keratolytic, Lipolytic and Deodorizing Effects
CUTANIA GlycoZoo Shampoo – Dermatological Shampoo with Drying action, Keratolytic, Lipolytic and Deodorizing Effects