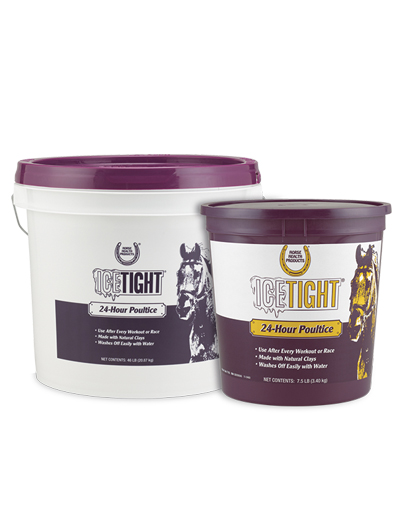 *Not available in all countries
Topical poultice for use on knees, tendons and ankles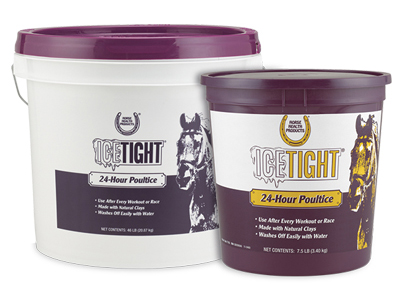 Presentation:
Clay
– 3.4 kg
– 11.3 kg

Composition:
Kaolin
Water
Bentonite
Glycerine
Boric acid
Ferrous sulphate
Aloe vera with artificial mint scent.
Effective 24-hour cold effect.
Contains natural clays, glycerine, aloe vera and minerals.
Refreshing, relaxing, moisturizing, exfoliating and antimicrobial properties.
One application can take the place of tubbing, icing or hosing.
Does not blister or irritate the skin.
Washes off easily with hosing – no rubbing or hand washing necessary.
Used and recommended by best professionals.
Mint scent.
Encouragement of a natural recovery after training and competition.
Clean all medication, chemicals and material from the area to be treated. Then apply a layer up to 0,7 cm thick over the area to be treated. Finally, wrap the preparation with plastic or moist brown paper, and cover with cotton bandage.
Download
THERMAFLEX® Liniment Gel – Liniment with Cold-Hot Double-Effect for Fast and Effective Relief of Muscles, Joints and Tendons
ABSORBINE® Veterinary Liniment Gel – Liniment gel with hot/cold effect for a fast and effective relief of sore muscles, joints and tendons
TITANIUM® FlexGuard Gold – Balanced and complete formula with Glucosamine, with clinically proven antioxidant and chondroprotective effects for high-performance horses