Triple Action Complementary Feed For Cats with Laxative Effect to Help Reducing Trichobezoars Formation and Facilitate its Elimination, Formulated in Highly Palatable Chews
Key Constituents (per chew):
Biotin
13 μg
Lecithin
60 mg
Omega-3
15 mg
Omega-6
75 mg
Zinc
0.2 mg
Plantago ovata
25 mg
Vaccinium macrocarpon
12.5 mg
Triple action complete formula:

Nourishes the hair follicle, helps to avoid excessive shedding and to reduce trichobezoar's formation.
Eases the elimination of trichobezoars.
Reinforces the urinary system's health.

Rich in Biotin, Essential Fatty Acids, Zinc and Lecithin — Maintains skin and hair in optimal conditions.
With Psyllium (Plantago ovata) — Great source of fibre and mucilage.
Contains Vaccinium macrocarpon (Red Cranberry) — Provides proanthocyanins and acidifies urine, increasing uroliths solubility and avoiding their formation and aggregation.
Without malt.
Without side effects of oil or paraffin.
Highly palatable chews.
For all breeds and ages.
Prevents formation and facilitate the elimination of trichobezoars.
Nourishes the hair follicle, reducing excessive shedding.
Helps in managing chronic constipation.
Situations where a softer stool consistency is required: postsurgery, painful defecation…
Lower Urinary Tract Disease predisposed animals.
Regular use: 2 chews / cat / 24 h (or divided in two intakes)
Laxative action (2-4 days): 4 chews / cat / 12 h
Download
ADIVA® Entero Small & Medium  | ADIVA® Entero Large" content="Complementary Feed Suitable for Digestive and Intestinal Processes that Favours the Formation of Normal Stools, Formulated in Highly Palatable Chews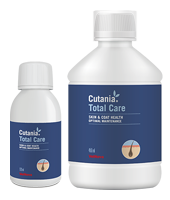 CUTANIA® Total Care" content="High Potency Dermatological Supplement Designed to Strengthen the Cutaneous Structures. Complete Formula with Biotin, Zinc, L-Cysteine, Omega 3 and 6 and Vitamins