CLUNIA® Maintenance Zn Gel*

*Not available in all countries
Mucoadhesive Gel with Easy Application for a Highly Effective and Safe Oral Hygiene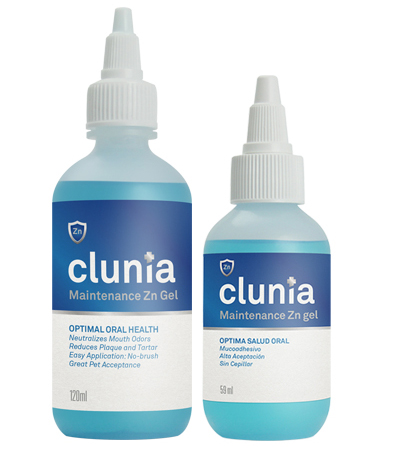 Dogs, Cats, Horses, Other Animals
Presentation:
59 ml and 120 ml
Composition:
Zinc Gluconate
1.5%
Taurine
0.5%
Excipients
qsp
Supplies Zinc, which participates in collagen production, favouring the recovery of damaged tissues.
Chelator action over the sulphur compounds that produce bad breath thanks to its Taurine content.
Provides a protective layer with its lubricant effect.
Natural and highly safe — Ideal for long-term use.
Easy applying gel — Without brushing.
Does not stain dental enamel.
Flavourless – High acceptance.
Helps to maintain an optimal oral health without the need for brushing.
Daily use helps to prevent plaque and halitosis.
Prior and after a professional dental hygiene it enhances, lengthens and improves its effect.
Apply directly from the tip of the incorporated applicator or deposit a drop on the fingertip, swab or toothbrush.
Apply 1 peasize drop for pets up to 10 kg on each side of the mouth, in the upper gums.
Download
You may also like…
CLUNIA® Clinical Zn-A Gel – Mucoadhesive Gel with Easy Application Enhanced with Ascorbic Acid for a Highly Effective and Safe Oral Hygiene
MULTIVA® Breath Control – Complementary Feed For Dogs Formulated in Highly Palatable Chews to Help Control Halitosis.
MULTIVA® Odor Control – Complementary Feed For Cats Formulated in Highly Palatable Chews to Help to Control Halitosis, Reduce Intestinal Gas and Faecal Smell