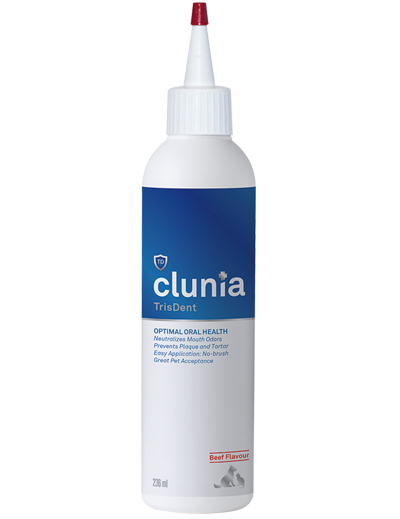 Solution for Daily Oral Hygiene that Helps to Control Dental Plaque Formation, Appearance of Tartar and Neutralize Halitosis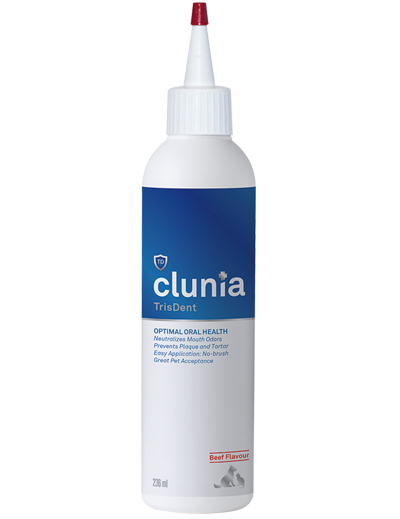 Key Constituents:
Tromethamine
0.20 %
Tromethamine HCl
q.s.
Disodium EDTA
0,10 %
Chlorhexidine Digluconate
0.12 %
Complete protection — Optimal oral health.
Helps to control plaque formation and reduces plaque progression to calculi.
Antimicrobial action against periodontal organisms.
Without brushing — Easy application.
Xylitol free.
Without animal protein.
Beef taste — High acceptance.
Ideal for long-term use.
If used daily it helps to prevent plaque formation without brushing.
Control of halitosis.
To maintain optimal oral health and prevent secondary problems caused by dental plaque.
Prior to and after a professional dental hygiene, it powers, lengthens and improves dental hygiene effects.
Administer daily after feeding the animal, or as directed by the veterinarian. In animals with deteriorated dentition direct application is recommended.
Direct application: Lift the upper lip and apply a jet of CLUNIA® TrisDent directly with the applicator.
Administration in drinking water: Add 5 ml (1 teaspoon) for every ¼ litre of drinking water. Change water every day.
Download
You may also like…