Complementary Feed For Cats Formulated in Highly Palatable Chews to Help to Control Halitosis, Reduce Intestinal Gas and Faecal Smell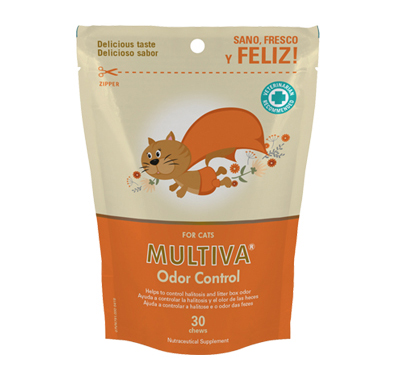 Arthrospira maxima / platensis


Bioavailable chlorophyll

100 mg
2 mg
Agaricus bisporus
30 mg
Yucca schidigera
10 mg
3 ingredients which act over the bad smell's origin.

With Agaricus bisporus (Mushroom) — Improves intestinal microenvironment.
Combines Arthrospira maxima and platensis (two species of spirulina) — Antioxidant, immunomodulatory and detoxifying.
With Yucca schidigera (Yucca from Mojave) — Decreases faecal odour intensity.

Helps to maintain oral and intestinal bacterial balance.
Contributes to reducing toxin production at an oral and intestinal level.
Chlorophyll source — With deodorizing effect.
Highly palatable chews.
Halitosis control.
Maintenance of oral bacterial balance and reduction of oral toxin production.
Reduction of intestinal gas.
Promotes a healthy gastrointestinal function and microenvironment and reduces faecal smell intensity.
Halitosis control: 1 chew / cat
Faecal odour control: 2 chews / cat
Alternatively: 1 chew / 2.5 kg
Download
MULTIVA® Breath Control – Complementary Feed For Dogs Formulated in Highly Palatable Chews to Help Control Halitosis
CLUNIA® Maintenance Zn Gel – Mucoadhesive Gel with Easy Application for a Highly Effective and Safe Oral Hygiene
CLUNIA® TrisDent – Solution for Daily Oral Hygiene that Helps to Control Dental Plaque Formation, Appearance of Tartar and Neutralize Halitosis
ADIVA® Entero Small & Medium  | ADIVA® Entero Large" content="Complementary Feed Suitable for Digestive and Intestinal Processes that Favours the Formation of Normal Stools, Formulated in Highly Palatable Chews